3- Where do you draw your inspiration from your day to day life, objects, colours, surroundings?
I get a lot of inspiration from people - I like to hear their everyday phrases, exaggerations, and how they act day to day. If you listen to people complain, especially, sometimes funny ideas for illustrations come to me. Often, when I'm sitting down at a dinner someone will say some kind of phrase or metaphor and I'm already building the illustration together in my head to draw later.



5- What do you do to overcome a creative block?

I do everything except the art - I don't even think about it. Right now I'm really into playing chess online, so I just do that when I need to get out of a creative block. It really helps to sit around and do nothing related to whatever's getting you stuck.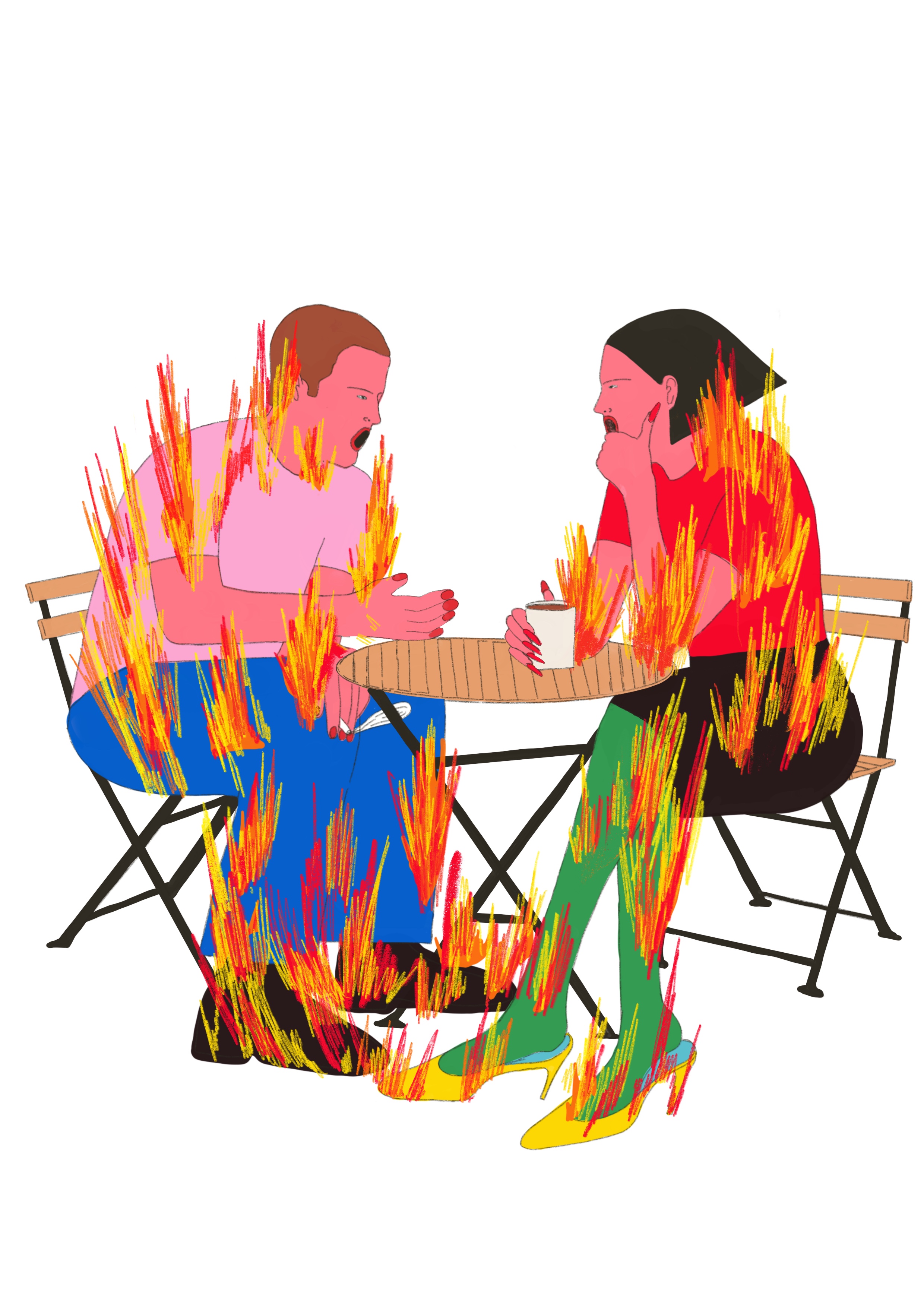 6- Who are some of your favourite artists/illustrators?
There are so many talented people I love and follow, some of my favourite painters right now are Henry Taylour, Danny Fox, Kathrine Bernhardt, Marcus Leslie Singleton. And some great illustrators/animators I love to see on my timeline: Marie Jacotey, Zhong Zian, Anna Firth, Alexis Jamet, Gabriel Alcala... and I could probably fill two pages of artists I'm really excited about but I think I'll relax and stop here.

1- Introduce yourself: talk about who you are and what you do!


My name is Kimberly Elliott. I'm an American-Filipina artist based in the North of France. I work between illustration and painting. I am sometimes known through my handle @linesbyher.



2- Many of your illustrations tell the story of simple, everyday and also funny situations/moments. What made you go down the 'not-so-serious' art route but rather one that is fresh, creative and Realistic?
When I first started posting work and seriously getting back into art, I tried to start with work that was safe and boring. I spent a lot of time at the beginning being unproductive and just not confident in my own work. Once I got over that, I actually started to form my style and find my voice. The work I do has a bit of a sarcastic undertone or dark comedy to it at times which is something I enjoy making. I want to make pieces that make people laugh at themselves a bit. That's when I started making these characters with weird shoes and big hair, open mouths, the work started to become an extension of my personality and weird humour.
4- When did you know that working in this industry was something for you? Who/what inspired you to do so?
I knew I wanted to be an artist since I was six years old. I drew something for my father once and he really loved it and ended up framing it. When I saw that I could make someone that happy with something I made, I don't think I could have been anything else. So it would be my father who inspired me most to go for it.